IT: Il nuovo poster di Black Panther è accompagnato da un messaggio molto specifico per i fan che amano godersi la visione di Wakanda, la segreta ed evoluta nazione africana che T'Challa chiama "casa": l'attesa del film sarà ripagata. Il trailer è già online da venerdì (9 giugno 2017).
La nuova produzione della Marvel Studios, che vede Chadwick Boseman nel ruolo del super-eroe, è diretta dal regista di "Fruitvale Station" (20013) e di "Creed" (2015), Ryan Coogler, e sarà nelle sale cinematografiche di tutto il pianeta dal 6 febbraio 2018; la produzione ha già annunciato che il trailer è online in concomitanza con la finale della NBA tra i Worriors e i Cavaliers (9 giugno 2017).
Nel fumetto, Black Panther, come primo eroe nero, è estremamente dirompente. L'immagine del super-eroe seduto sul trono della sua patria è un'immagine che rimane indelebile, anche nel personaggio del film: Questa è la misericordia. Nel film si vede che T'Challa dona un santuario ad un piccolo gruppo di rifugiati: tra questi "Captain America" di Chris Evans, e il suo fuggitivo compagno "The Winter Soldier" (Sebastian Stan), che cercano rifugio dopo gli eventi della guerra civile. Wakanda in genere non accoglie stranieri e anche per questo non è mai stata conquistata; i suoi abitanti sono portatori di tanti segreti. Qualche volta questi segreti li hanno anche tra di loro. Sono uniti soprattutto nel proteggere la scorta del rarissimo elemento del Vibranium (lo stesso elemento con cui è stata costruito l'indistruttibile scudo di Captain America, con i suoi tipici colori rosso, bianco e blu). Una meteora, che contiene questa sostanza, si è schiantata nel loro territorio e il suo popolo, da quando la popolazione è aumentata, ha imparato ad utilizzare i poteri unici e tecnologici di questo elemento. L'armatura corazzata di Panther è costruita con questa sostanza che gli consente non solo di assorbire tutti i colpi, ma anche di comprimerli e di respingerli indietro. Quando Panther dovrà affrontare il tradimento di quelli che un tempo considerava amici, alleati e persino la sua famiglia … avrà bisogno della sua armatura corazzata.
Spider-Man ha rubato i riflettori all'ultimo trailer di Captain America: "Civil War", ma il prossimo grande film della Marvel sarà l'esordio della versione di "Black Panther" impersonato da Chadwick Boseman. Il re del regno africano dell'iper-evoluta Wakanda, Black Panther (il cui vero nome è T'Challa), è stato il primo super-eroe nero che ha debuttato nei fumetti della Marvel nel 1966. Oggi questo re festeggia i suoi primi cinquant'anni in grande stile, con il debutto del suo primo lungometraggio e di un fumetto rivitalizzato, scritto dal pluripremiato e vincitore del "Nationa Book Award for Nonfiction" e del premio "MacArthr Foundation Genius", lo scrittore, giornalista, autore di fumetti e sceneggiatore Ta-Nehisi Coates, che ha rielaborato i fumetti originali del veterano Brian Stelfreeze.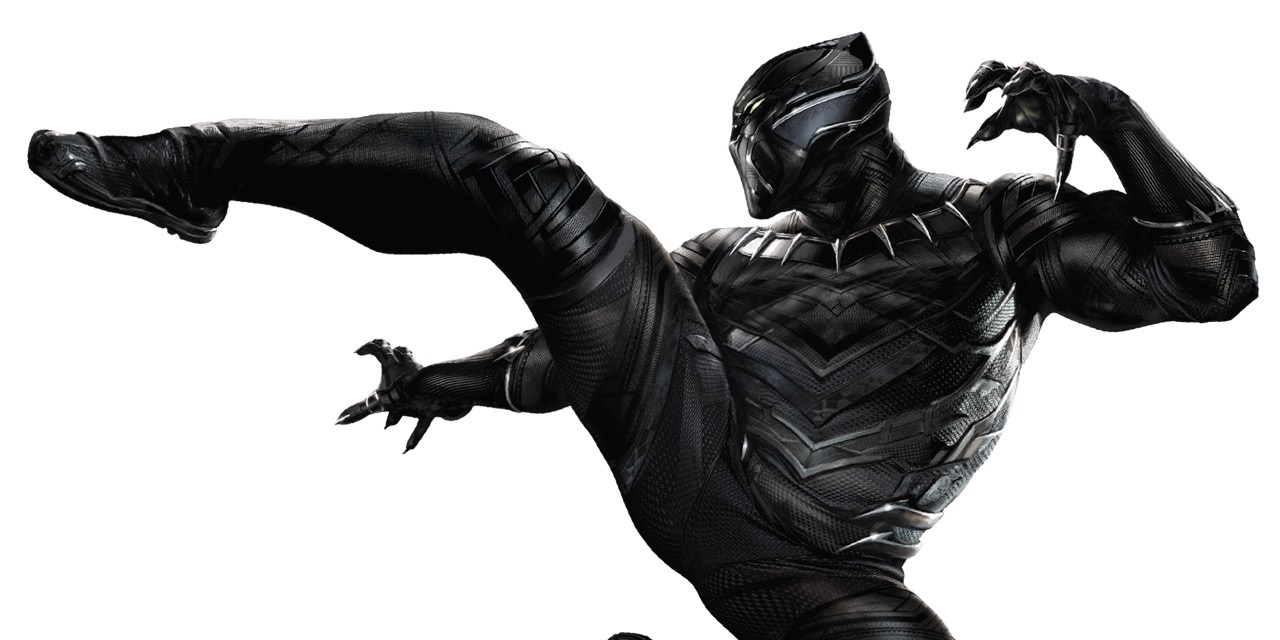 EN: The new poster for Black Panther is accompanied by a very specific message for fans who are eager to get a glimpse of Wakanda, the secretive, advanced African nation that T'Challa calls home: The wait has paid off. It's coming Friday.
The Marvel Studios film, starring Chadwick Boseman as the title hero and directed by Fruitvale Station and Creed filmmaker Ryan Coogler, doesn't hit theaters until Feb. 16, but the studio announced that the trailer would debut during this evening's match-up between the Warriors and Cavaliers in the NBA Finals.
In the comics, Black Panther is particularly notable for being the historic first black superhero. And from this image, sitting on the throne of his homeland, you can see that the qualities mentioned above remain an indelible part of the character.
So is mercy. In the movies, we last saw T'Challa providing sanctuary to a handful of refugees: Chris Evans' Captain America and his fellow fugitive The Winter Soldier (Sebastian Stan) among them, seeking shelter after the the events of Civil War.
Wakanda doesn't typically welcome outsiders, and it has never been conquered, so its people have many secrets. Sometimes they have them from each other, too.
Mostly, they are united in protecting their supply of the rare Vibranium element (the same thing that makes up Cap's indestructible red, white, and blue shield.) A meteor containing this substance crashed in their part of the world eons ago, and as humanity rose up the people of that territory learned how to harness its unique technological powers.
Panther's armored suit is woven from the substance, allowing him not only to absorb punishment, but to compound it and push it back. As he faces treachery from those he once considered friends, allies, and even family … He's going to need it.
And for now, anybody who needed a new inspirational cat poster has a fearsome option.
Spider-Man stole the spotlight in the latest trailer for Captain America: Civil War, but the next big Marvel film will also feature the debut of Chadwick Boseman's version of Black Panther. King of the fictional, hyper-advanced African kingdom of Wakanda, the Black Panther (real name T'Challa) was the first mainstream black superhero when he debuted in 1966. Now, the king is celebrating his 50th birthday in style, with both a feature film debut and a revitalized comic book, written by National Book Award winner and MacArthur Genius grant recipient Ta-Nehisi Coates and drawn by comics veteran Brian Stelfreeze.
The pages below are an excerpt from Coates' and Stelfreeze's Black Panther #1, which hits stands April 6. The new storyline will feature T'Challa, shaken by the traumatic events of Marvel's recent Secret Wars storyline, now dealing with rebellion from within Wakanda.
"For centuries, Wakanda has been sending would-be conquerors home in body bags. Now, it is about to face its biggest threat — and it comes from within," Marvel Comics editor-in-chief Axel Alonso said in a statement. "Under Ta-Nehisi's unflinching gaze, the Black Panther will grapple with a threat that can't simply be beaten into submission, one that raises questions about life, liberty and honor that are especially relevant today."
Coates' bestselling Between the World and Me was EW's #1 book of 2015. Written as an open letter to his son, that book centered around one main question: "how do I live free in this black body?" Coates has said that his Black Panther comic will draw from real history as much as Marvel's own decades-long continuity in order to answer its own central question.
"Can a good man be a king, and would an advanced society tolerate a monarch?" Coates said to The Atlantic. "Research is crucial in both cases. The Black Panther I offer pulls from the archives of Marvel and the character's own long history. But it also pulls from the very real history of society—from the pre-colonial era of Africa, the peasant rebellions that wracked Europe toward the end of the Middle Ages, the American Civil War, the Arab Spring, and the rise of ISIS."
Check out pages from Black Panther #1 below, along with some variant covers (including a play on Jay-Z's The Black Album, in the style of Marvel's recent run of hip-hop homages and a reference to the character's original appearance in the pages of Fantastic Four).
Source / Fonte:
Trailer:
Translation by / Traduzione di Andrea Giostra:
https://www.facebook.com/andrea.giostra.37
https://www.facebook.com/andrea.giostra.31